Bike Athens and its surroundings with an eBike!
Bike Athens with us on an eBike! Enjoy fun and easy Athens bike tours on electric bikes to the top attractions but also explore some hidden places you would not easily find on your own and would not see on a bus driving in traffic sensitive capital of Greece.
Whether you can spend one day in Athens or a few, this is a nice and fun way to get a first impression of the historical center of Athens.
During our Athens bike rides we try to follow the least frequent routes possible, of course we will make a stop at the main sights but also follow the so-called off-beaten tracks, using parks and pedestrian lanes.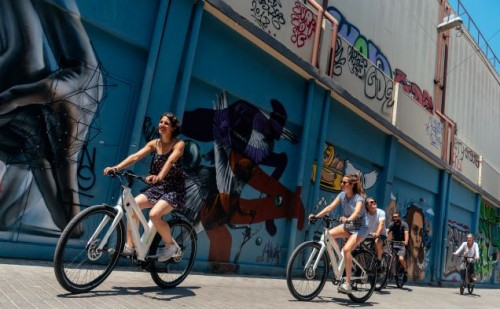 Thanks to our electric bicycles, we go effortlessly up the hills of Muses to enjoy amazing views. We will stroll through the narrow streets of the Plaka area and Psiri with its picturesque corners, graffiti, and fabulous small alleys, that mostly only locals know, depending on the bike ride you choose.
No matter your age or fitness level everyone can keep up the pace thanks to the e-bikes! Enjoy a fun electric bike ride in Athens with us and we promise you won't be bored a second.
So why not go for a different eco-friendly way of seeing Athens without stress and hurry ups? We will stop at all the interesting places. We leave you enough time to take pictures of the beauties of the city of Athens both ancient and modern.
Historic Athens with all highlights and more, Urban Life & Street Art for an alternative introduction to the city, Mezedaki Tasting with eBike for Historic highlights combined with local tasting and drinks, After Sunset Highlights for a relaxed evening ride and after sunset skies and amazing lights or, just grab an eBike and do the Athens "Sightsea-ing" coastal bike ride to get away from the noise and crowds of the city. Or book a private eBike ride with your friends and family for even a more personal touch.
Check out our different Athens electric bike rides and pick one to your liking. Book and pay online or send us your request. We guarantee you will have an exceptional experience even if you have visited Athens already a hundred times!
In our eBike fleet we have a large variety of comfortable electric bikes to choose from:
City eBikes
Mountain,
Trekking
Easy step in, Low small 20" eBikes
24" Children eBike (for the young or less tall :)
Tagalongs for 8-11 years old
child seats/baby seats
Thus a great outdoor experience for the whole family!
Historic, interactive, artistic, playful, fun, we have so many things to share with you during our trip!
For cruise passengers a private transfer from and to Piraeus port can be arranged. The rate for a standard car transfer is 30 euro/per way. Request a transfer via this link https://www.webikeathens.gr/requesttransfer
Our main language for the tours is English but we can also provide Dutch, French, Italian, and Spanish just indicate your preferred language when you book.
We can also, upon request, provide our tours with licensed guides for more in-depth information on the sights, this is at extra costs.
If you cannot find what you are looking for and you would like a completely customized tour, send us an e-mail and together we will discuss the routing. You See? Everything is possible!